When I add a user to my plan, what permissions can I adjust?
Because you have payment responsibility for users on your plan, it's important to adjust the various permissions that will affect your monthly payment.
Learn how to add a user or plan to your account
Here are the user permissions you can adjust for each plan on your account:
Add funds to their Wallet: The user can transfer funds from their payment method to their Wallet
Wallet to Wallet money transfer: Transfer funds from one Wallet/plan to another Wallet/plan. Note that Wallet transfers can only occur between Wallets on the same account — in other words, a user on your plan can transfer funds to you, or to another user on your plan.
Buy an Add-On: Buy an Add-On to their plan — for additional data, minutes for international calls or travel.
Change their monthly plan: Adjust details in their plan — change the amount of data, minutes, minutes for international calls, etc. (and therefore the monthly payments)
Gift data: Gift additional data to another Fizz member
Change their phone number: Change their current phone number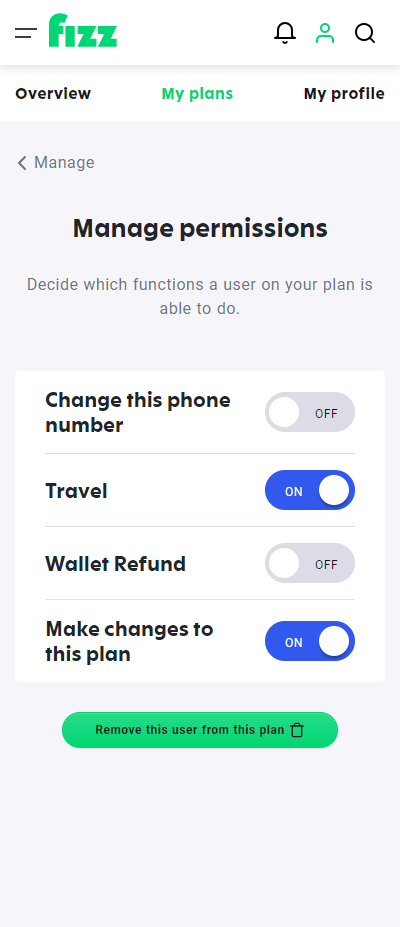 Read more :
What is my Wallet and how do I use it?
What can I do with my Wallet?
How do I add funds to my Fizz Wallet?
How do I transfer funds from one Wallet to another?
How do I change my plan?
Learn about gifting data
How do I get a new phone number?