How do I activate my Perks?
Your Perks are displayed on your My Rewards page of your Fizz account.
Note in regards to the two (2) Perks of 1 GB each, offered as a compensation following the incident of March 25, 2019: these Perks will be put in the account of a user whose plan was impacted by this incident. As such, if you are the owner of the plan, but not its user, you won't see these Perks in your account. 
Your Perks are grouped under three tabs according to their state:
In use:

you are currently enjoying it.

Unlocked:

you can choose to activate it, and either apply it to your plan or gift it to another Fizz member.

Expired

: you already used it or gifted it, or the delay to activate it has expired.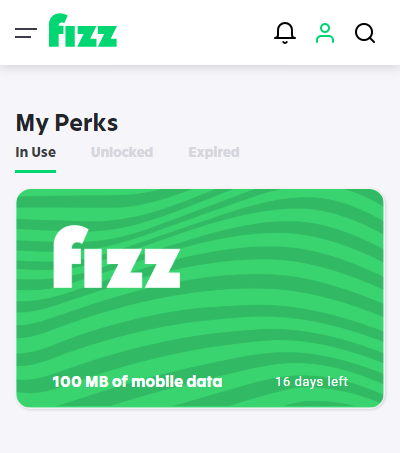 To activate a Perk:
Go to

My Profile

in your Fizz account.

Scroll the page down to the My Rewards Program, located just below your usage summary.

Click on View More to go to your My Rewards page.
Scroll to your Perks and click on the Unlocked tab.

Click on the Perk you wish to activate.

Select Use to apply the Perk to your plan. Select Give to gift the Perk to another Fizz member.
Each Perk has its own specifics:
Not all Perks have the same delay to activate them, just like they each have their own use delay. This information specific to each Perk is written directly on them.

Some Perks can be offered or transferred to other Fizz members.

There are Perks for mobile services, and others for Home Internet services. These types of Perks therefore do not apply to another service.
You can receive more than one Perk at a time. You can choose to apply them all on your plan at the same time, or spread them out to stretch out the fun.
If you receive a mobile data Perk, and your plan does not include any, you can use this perk yourself or gift it to another Fizz member. You might have to configure your APN network settings to have access to that data. 
If you have unused data that comes from a Perk, that data won't be rolled over to the next month when your payment cycle ends. Only unused data that was part of your plan will be transferred.
Read more :
Learn about My Rewards
How do I join My Rewards?
How do I know when I've earned something in My Rewards?
How do I view the Level and Perks I've earned in My Rewards?
What are Points, Levels, Perks, etc. What can I do to earn each? 
How do I unlock and redeem an Upgrade? 
How do I unlock and redeem my Perks? 
Can I transfer my Points, Upgrades or Perks to another Fizz plan?
What kinds of Rewards do I earn for inviting friends?