Free on Mondays.
Fizz is full of surprises. This year, we're offering you free BIXI rides from 4 to 7 p.m., every Monday in July. It's your chance to discover or re-discover your city. Turn your Mondays into fun days thanks to Fizz.

1
Insert your credit card in the terminal or log in to the BIXI app1.

2
Follow the instructions and unlock a BIXI.

3
Ride away.
You'll get a free BIXI ride valued at $7: that's 40 minutes on a standard BIXI or 20 minutes on an electric one. Once this limit is exceeded, you can keep riding, but you will be charged the extra minutes at the regular rate per minute. Please note that a $100 security deposit will be temporarily held on your card.
Where to go?
Monday's free rides are the best way to get around on a budget. It's also a great opportunity to venture into the city's various streets and different neighbourhoods.
You probably already have a destination in mind, but feel free to let loose and get out of your comfort zone.
 
Touristic Olympics
Pretend you haven't been living in Montreal for the past 10 years and become a tourist for the day. Go to the Olympic stadium.
The BIXI dock at the foot of the tower that needs no introduction will place you in the heart of the Olympic Park, where all sorts of -Olympic-themed activities are offered year-round.
Flower, plant, and photosynthesis fanatics will find their oasis at the Botanical Garden. For those who prefer fauna over flora, the Biodome is where you need to be. Freshly renovated, the building (and penguins) are finally ready to see you after two long years.
Identified flying poutine
How can you tell us you're in Montreal without telling us you're in Montreal? The answer is simple, greasy, and found on Rachel Street East.
If you find Mondays to be boring, try a poutine that's everything-but at La Banquise restaurant. They have more than 30 poutine varieties for you to try, from the classic poutine to more esoteric types. Friendly tip: try la Taquise.
Before you go, we recommend walking over to the neighbouring La Fontaine Park (it'll help with digestion). Once you're ready to hop back on a bike, look for the more than 10 BIXI docks around the park.
Circular island for you to taste
Are you an everything person, a classic person, or someone who BOLDLY orders a cinnamon-raisin bagel without hesitation? No matter the flavour, the Mile-End, bagel capital of Montreal, will have what it takes to win you over.
Some institutions have made their mark on the neighbourhood, like St-Viateur Bagel and Fairmount Bagel. The best way to find the best one? Try both.
Everyone knows that bagel tasting is no laughing matter. In order to conduct the test properly, set yourself up in an Îlot d'été. These small outdoor coworking spaces are free and perfect for the task at hand before you head home.
Tour the parks
We all (somewhat forcefully) re-discovered the joys of spending time in Montreal parks these past few years. Everyone has a favourite, so instead of arguing, why not check them all out?
Let's start with a picnic at Laurier Park. Drop by the Lapin Pressé for an iced matcha to blend in with the crowd (and Fizz). It's delicious paired with a cheese platter improvised by Le Fromentier or a Margherita pizza from Stella Pizzeria.
The tour continues at Parc du Père-Marquette, followed by a stop at Jarry Park, by the fountain, to enjoy the sunset. It doesn't get old!
Drippy adventure
For heatwave Mondays, this activity combines the best ways for Montrealers to cool off.
You can live in the city and enjoy the beach thanks to the exotic treasure that is Verdun's urban beach, where swimming is strongly encouraged. Plus, it offers unique access to the St. Lawrence River.
Wanted to stick your toes in the water, but the River felt too cold? You can always cool off with a chocolate dipped ice cream cone from Crèmerie Verdun, right by the shore.
You can also dry your armpits while riding a BIXI . . . that works, too!
Doodle your hood.
We've put together a little something to help you rediscover your city and see your neighbourhood in a different light.



Memorize your route (good luck) or keep it handy by mounting your phone onto your Bixi and turning up the volume. Remember that earphones are not permitted while cycling. 



We recommend that you come to a full stop before recording or taking photos of your route. 



And remember, an ounce of prevention is worth a pound of cure, so wear a helmet if possible.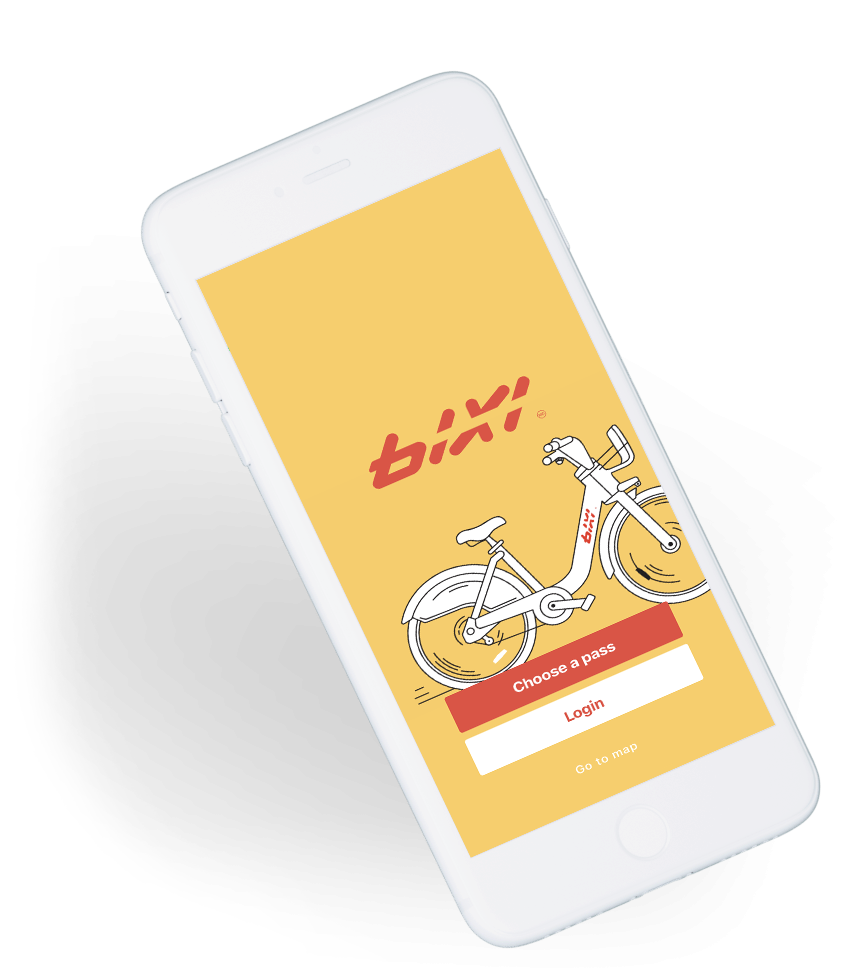 Looking for help?  
BIXI has got your covered. 
 
Email: [email protected] 
Customer service: 514-789-BIXI (2494) 
Toll-free: 1-877-820-2453